When you're measuring barcode label printer for your business, you must think carefully how you will use your printer to help your business grow. It's important to remember that not all printers are the same type.


1.Print method. There are five printing technology in the market: direct thermal, thermal transfer, ink jet, dot matrix and laser. Dot matrix, ink jet, and laser printers are capable of producing scannable barcode labels in theory. However, their tolerances are tight in the bars width and space.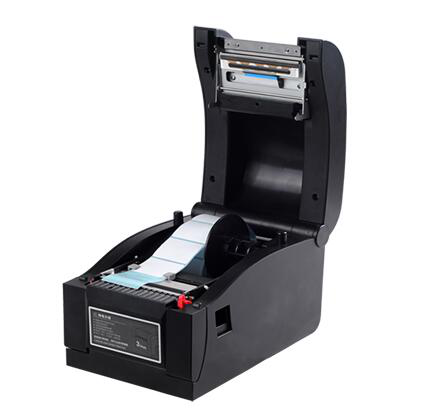 Most companies use thermal barcode label printer for printing barcode labels. Thermal transfer printer applies the print head to heat the ribbon, then transfer the image to the paper.This type printer produces a durable image, but more expensive in cost at the same time. Direct thermal printer heats the image to paper directly, without any ink, toner or ribbon. It's a cost-saving method in business, but the print paper is sensitive to UV light, heat, moisture, smudging and scratching. It's not your best choice if you are in above environment.
2.Print resolution. Scanning and reading barcode requires high definition, which is related to print resolution. Print resolution is 203 DPI, 300 DPI or even 600 DPI for different usages. The higher the DPI, the finer the resolution. If you want to print high density bar codes, 2D barcodes, fine fonts or graphics, you should considerate high resolution printer. However, if your barcode is large enough, then 203 DPI is fine.
3.Print volume. Some barcode label printers are designed to suit large volume of label output, while others are more suitable for small volume. Considerate the most suitable output volume for your demands.
4.Print size. Considerate the print size of printer for your label. Different printers prints different size label. Its width is range from 2 inch to 4 inch nomally.
5.Connectivity. The printer has various connected port for your choice, such as USB, LAN, parallel or serial port. If you need a mobile printer or POS label printer, you can considerate wireless interfaces, such as bluetooth or wifi. So make sure what the interface the printer has to connect with your current network.
If you need more help to choose the right thermal barcode label printer for your business, welcome to contact Xiamen Cashino Electronic Technology Co., Ltd. We are a professional printing solutions provider and manufacturer in China. Our company's website is http://www.cashinotech.com
Hot Tags: barcode label printer POS label printer thermal barcode label printer