Now, kiosk technology is a popular tool for bank ATM, Self-ordering kiosk, Vending machine, self-service kiosk, etc. Many companies hope to make their customers' experience easy, fast, informative and convenient. CASHINO manufactures a wide range kiosk thermal printers with featuring fast, small and reliable to fit the requirements of nearly any kiosk application. Today, we would introduce one of our 80mm thermal panel printers for kiosk to you.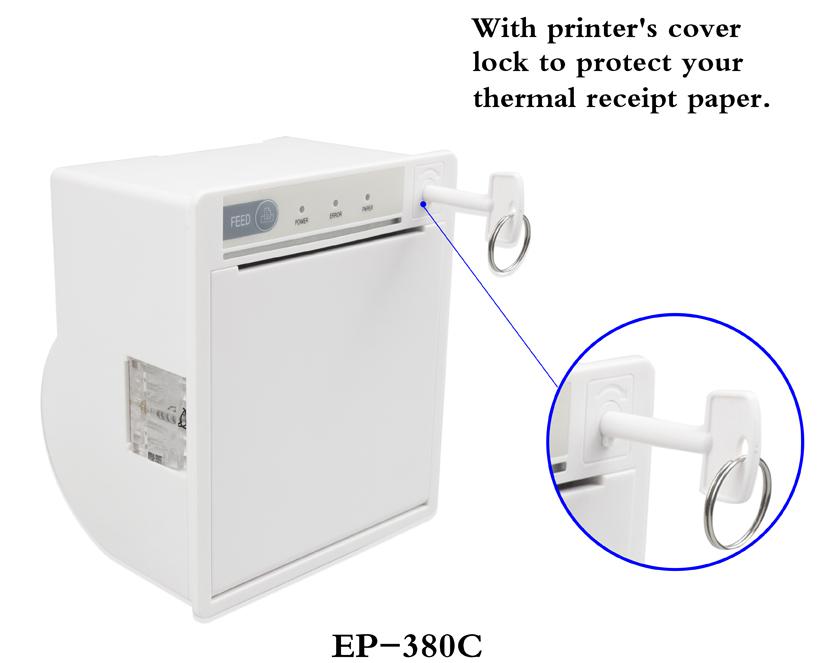 EP-380C is a 80mm thermal panel mounted printer, which the printer's front panel is located on the front of the printer. This feature will make it very convenient for the printer to load paper. Customers only need to open the printer panel to load paper roll. However, traditional self-service devices are embedded with the printer from the rear of kiosk, which is very inconvenient for the later loading of paper. Front panel printer perfectly solves the shortcoming of traditional printer. And you don't have to worry about losing rolls, because the printer comes with a cover lock that makes user harder to open the panel. In addition, the printer also has the function of no paper taken out and paper near end detection.
Xiamen Cashino Technology Co., Ltd. provides all kinds of kiosk printers with paper width from 2 inch to 4 inch. If you have interest in more information, welcome to visit our company's website: https://www.cashinotech.com.
Hot Tags: 80mm thermal panel mounted printer Kiosk thermal printers 80mm thermal panel printers for kiosk